Frontrunner Schifferstadt overthrown – Olympic champion of Rio for Eisleben on the mat
Frontrunner Schifferstadt overthrown – Olympic champion of Rio for Eisleben on the mat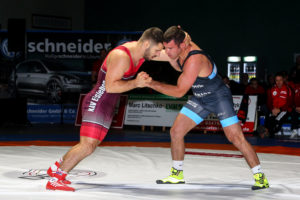 Two close matches, a comedown of the championship leader and an Olympic champion from Rio on the mat, these are the headlines of the third round of the German Wrestling League.
With a 13:12 Germania Weingarten obtained two very important points in the victory against KAV Eisleben. Crucial for this is the shoulder victory of Maksim Safaryan against Vladimir Stankic in the 98 kilo class with only one (!) second fight time left. Strong again appeared the German axis in Baden, which called two winners its own with Dustin Scherf and Jan Fischer.
The highlight of the day, however, was the appearance of Rio's Olympic champion Davor Stefanek, who only scored one team point for Eisleben against a strong Johnny Panait.
The first defeat of the season, however, had to be accepted by the previous leader VfK Schifferstadt. The Pfalz lost with 9:12 at ASV Nendingen.
Victory for Nendingen was set by the wins gained by Yuriy Holib and Nicolai Ceban. Also the highly anticipated brother duel between Andrej and Maxim Perpelita ended with 4: 2 for Andrej in favor of Nendingen, who celebrated his victory accordingly.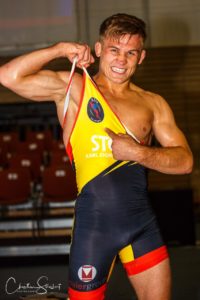 With this in mind the fact that Tariel Gaprindashvili emerged victorius with 18:16 in his bout against Samet Dülger in favor of VfK, was of no use anymore.
All in all fantastic sports, in addition to close bouts, what more could a wrestler's heart want?
The individual results can be found at http://db.ringerliga.de, from tomorrow on the bouts of the weekend will be streamed again on-demand on http://www.sportdeutschland.tv. Next Saturday the main duel of the DRL Schifferstadt-Ispringen will take place. That the classic of the German team wrestling, Weingarten-Nendingen is mentioned here second, says it all about the class of the German Wrestling League.