50.000 watch the TV Premiere of the German Wrestling League on SPORT1
50.000 watch the TV Premiere of the German Wrestling League on SPORT1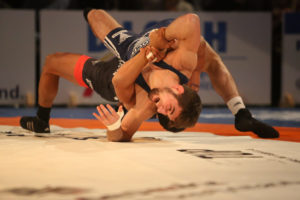 The German Wrestling League received great news from TV Station SPORT1 yesterday: The ratings for the first GWL fight screened on Free-TV reached 50 000! Markus Scheu, Manager of the GWL, was more than happy and spoke of a "more than successful opening that showed that wrestling still has lots of friends in Germany".
Talk from the SPORT1 circles was that there were 'above average spectator numbers'.
Today the GWL clash is taking place which will be broadcast on SPORT1 tomorrow. KSV Ispringen meets ASV Nendingen at 8.30pm in Ispringen posing the last chance for Nendingen to keep open an option to reach the final. This leads us to think that the team from Wurttemberg will be especially motivated. The 30 min summary broadcast on SPORT1 starts at 12pm tomorrow.
The complete highlights from last Saturday: