The Christmas break is over, Sport1 screens the top duel from Schifferstadt
The Christmas break is over, Sport1 screens the top duel from Schifferstadt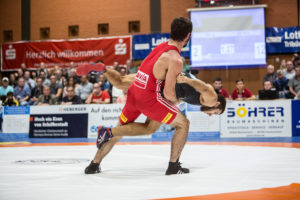 After a short break the GWL is heading for the finishing straight. When VfK Schifferstadt receives ASV Nendingen on Friday nothing less but a place in the final of the first German Wrestling League season is at stake.
Only one point is needed by the team of Markus Scherer and Erol Bayram to reach the final when they start in the Wilfried Dietrich Halle at 8.30pm. For the Nendinger team however it is the last chance to obtain a win and keep open a possibility of participating in the final.
The enthusiastic fans from the Pfalz will cheer its team on to secure the success for VfK against a determined club from Nendingen.
This top clash will screened on Saturday from 9.30pm as a 30 min summary on Sport1. All wrestling fans should definitely diarise this date!
KAV Eisleben will have to finally secure a long awaited first win against Germania Weingarten when they meet on Saturday at 7pm at the Glueck-Auf-Halle. Many times they were so close only to just not make it in the end. However, the current champion from Weingarten will not just standy by but do everything they can to take the points to Nordbaden.
The fights of the German Wrestling League will again be shown live this Saturday on http://www.sportdeutschland.tv.
GWL Facebook page will also accompany the evening on http://www.facebook.com/ringerliga.
Individual results of both fights will be posted straight after on http://db.ringerliga.de.