German Wrestling League facing the second round – "Let's Dance" –Show act in Ispringen
German Wrestling League facing the second round – "Let's Dance" –Show act in Ispringen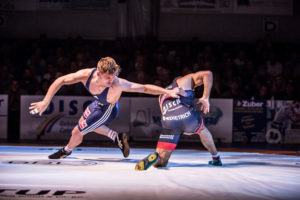 The German Wrestling League called and everyone came. Fantastic wrestling, great matches, bulging halls, all that was provided last Saturday in the German Wrestling League. The huge interest of the wrestling fans at the DRL has been made obvious by more than 10,000 Facebook views of the two in Weingarten recorded live videos. The matches Schifferstadt-Eisleben and Ispringen-Nendingen will take place tomorrow, Saturday, October 7, 2017, ringing in the second round.
In Schifferstadt (Wilfried-Dietrich-Hall Schifferstadt, 7-30pm), the team will show up for the first time after the first victory in Weingarten in front of their own audience. The audience can look forward to a team studded with top class wrestlers, which will surely quickly conquer the vocal and knowledgeable audience.
Opponent Eisleben was particularly affected on the first matchday by the World Association UWW unlawful barriers (http://www.ringerliga.de/2017/10/05/wegweisender-sieg-vor-gericht-weltverband-uww-darf-ringer-der-deutschen-ringerliga-nicht-sperren/) against its wrestlers. In regard of the special situation, and to offer the fans ten high-class matches, both clubs had already agreed at the beginning of the week on a repeal of the agreed foreigner rule.
For the wrestling fans in the Rettichstadt this means that they can look forward to a match in a quality that has not been offered in Germany for a long time.
At the match Ispringen-Nendingen (Festhalle Ispringen, 7.30pm) wrestling legend Alexander Leipold will celebrate his debut in front of his home crowd. Whether his in Eisleben victorious team can aswell beat Nendingen is completely open. Nendingen, with no match in the first round, will provide the announced strong team and do everything possible to take the points into the Schwäbisch lands.
Spectators can expect a special treat before the match and during the half-time break. Ispringen's responsible person managed to win the pair Oana & Erich, known from the television show "Let's Dance", for a show performance. Alexander Leipold's dance partner from the show will certainly win the heart of Ispringen's audience!
Coming Saturday it is planned to broadcast the matches of the DRL again live and exclusive with our partner sportdeutschland.tv. There will also be an accompaniment on our Facebook page at www.facebook.com/ringerliga.