Reparation is the magic word – The DRL faces the sixth round
Reparation is the magic word – The DRL faces the sixth round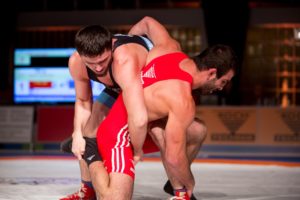 Reparation is the magic word this weekend in the German Wrestling League. Three out of the four competing teams want to do better than in the past. The first re-bouts are taking place, in which a couple of scores are to be settled.
3:18 was the result of the first matchday in Weingarten against VfK Schifferstadt. A try-and-win victory for the Pfäzer team, who nobody expected at this range. On Saturday (Wilfried-Dietrich-Halle Schifferstadt, 7.30pm), when the Germanen compete at the leaders of the DRL, the team of Frank Heinzelbecker will want to obliterate this shame.
Their hopes lay on, inter alia, on post-obligated Magomed Kadimagomedov, who offered THE fight of the previous DRL round with his victory against Davit Tlashadze.
But those who know Markus Scherer and Erol Bayram know that they will do everything they can to stay on top with the VfK. The Georgian axis around the two sensational wrestlers Georgi Melia and Iakobi Kajala will present itself to the home fans prepared to score.
The duel of the disappointed ones last weekend, will take place in Ispringen (Festhalle Ispringen, 7.30pm), where the KAV Eisleben is expected as a guest.
After losing to Weingarten, Ispringen will certainly do better in front of their audience this week. Especially Georgi Ketoev, who basically collapsed last week in the second half of his fight, will demand reparation. On a high-class level is the duel between the Ispringen's Igor Besleaga and the Olympic champion from Rio, Davor Stefanek, who is on the mat for Eisleben.
Stefanek most likely had some restless nights this week, after he gave away four team points in Nendingen against Daniel Cataraga, In Eisleben's view this must not happen to him again.
Therefore, everything is open this weekend in the DRL. Certainly we can expect exciting and high-class sport once again.
The battles of the German Ringer League will be streamed live on http://www.sportdeutschland.tv this Saturday. Also there will be an accompaniment of the evening on the Facebook page of the German Wrestling League. http://www.facebook.com/ringerliga. Individual results of the two bouts can be found right after their end at http://db.ringerliga.de.