Halftime in the DRL – spectators witness top-class wrestling
Halftime in the DRL – spectators witness top-class wrestling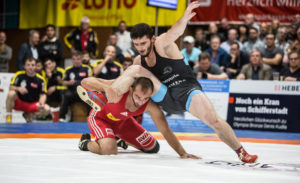 Halftime in the DRL – exciting duels have been on the agenda so far, but the upcoming 7th matchday  promises more of those to be seen in the German Wrestling League. The top duel takes place on Saturday in Tuttlingen. The second placed team ASV Nendingen meets their neighbour on the ranking table KSV Ispringen. KAV Eisleben faces a big hurdle in the second match of the evening against the current championship leader VfK Schifferstadt in the local Glück-Auf-Halle.
Revenge for the high away defeat in Ispringen has to be taken at the beginning of the season by ASV Nendingen in front of a home crowd. In the then 15: 4 defeat Nendingen, however, had to do without their long-time winner Nicolai Ceban and could not compensate for the illness-related short-term failure of the Iranian Asghar Laghari. In the meantime the ASV can fall back on both athletes. On the other hand, the Donaustädter team has to give up Samet Dülger, who has suffered a rupture of the anterior cruciate ligament and is expected to be absent all season. Get well soon Samet! However, the KSV Ispringen wants to repeat the pre-fight victory. After the unexpected home defeat against Germania Weingarten, the squad of coach Alexander Leipold showed a defiance reaction and celebrated a runaway victory at home against KAV Eisleben. In addition to the reinstated Yuri Belonovski also the Russian top wrestler Israil Kasumov stood for the first time on the mat in the DRL. Both could also belong to the KSV team in Tuttlingen.
With the second success against Germania Weingarten in their pockets VfK Schifferstadt travels as a favorite to Sachsen-Anhalt to fight in Eisleben. KAV Eisleben is currently still struggling with unauthorized releases, especially of its top Hungarian wrestlers. In the preliminary match the VfK Schifferstadt won with 18: 9. If the KAV can chose from a more comprehensive range of personnel, a surprise for Eisleben is definitely within the realms of possibility.
The bouts of the German Ringer League will be streamed live on http://www.sportdeutschland.tv this Saturday:
KAV Eisleben against VfK Schifferstadt
ASV Nendingen vs. KSV Ispringen
Individual results of the two bouts can be found directly after their end at http://db.ringerliga.de.