Schifferstadt defends the lead – Ispringen sets an exclamation mark
Schifferstadt defends the lead – Ispringen sets an exclamation mark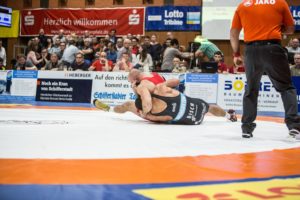 Even after the 6th round the VfK Schifferstadt is, getting a 12:6 home win against Germania Weingarten under its belt, still the leader of the German Wrestling League. An exclamation mark has been set in the KSV Ispringen 22: 1 victory against the KAV Eisleben.
A full hall, the two loudest fanclubs of the German wrestling – it was all ready for a great evening at the duel between Schifferstadt and Weingarten. And the audience wasn't disappointed. World-class duels and lots of close bouts.
So it happened that in the end the high victories made the difference for Schifferstadt. Outstanding here was the victory of Georgi Melia, who shouldered his opponent Maksim Safarian after 1:22 and brought the Wilfried Dietrich hall to its boiling point. Also Iakobi Kjaia contributed against Johan Euren the already almost usual three.
For Weingarten Maxim Mamulat surrendering his 12: 0 leadership was extremely bitter, there were no points for the Germanen in this key match. Thus in the end four individual victories were not enough to seriously endanger Schifferstadt.
The press conference after the match can be found on the Facebook page of the German Wrestling League at www.facebook.com/ringerliga.
Already after three fights the other duel of the evening was decided. After three 4: 0 victories it was clear at an early stage that the KSV Ispringen will defeat KAV Eisleben this evening. Ispringen, who had strengthened their team compared to the previous week, had nine individual victories to their credit. Dejan Franjkovic was able to gain the only victory of the evening for Lutherstadt against Ardo Arusaar.
How strong the German Wrestling League is, shows the renewed defeat of Olympic champion of Rio, Davor Stefanek. A reigning Olympic champion with a negative score, where else would that be imaginable?
Eisleben will welcome VfK Schifferstadt next Saturday, while a key duel against Ispringen will take place in Nendingen.