Top duel in Ispringen – world star before DRL
Top duel in Ispringen – world star before DRL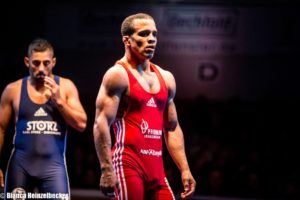 For the absolute top duel of the German Ringer League, it comes at the weekend in Ispringen, while the audience in Nendingen to look forward to the premiere of an absolute world star of ring sport.
When the local KSV Ispringen welcomes VfK Schifferstadt on Sunday at 6 pm in the Festhalle Ispringen, wrestling fans can look forward to the top bout of the DRL. Second vs. first, this bout promises high-class sports, close duels and a lot of drama. For the team of Alexander Leipold, the aim will be not to allow the gap to the Pfalz team grow to four minus points, while the VfK could take another step towards DRL finals thru a victory. For the Ispringen team, who was able to win six individual duels at the first meeting, the goal must be to avoid the preliminary high defeats.
Already on Saturday, the two recent series champions Nendingen and Weingarten meet at 9 pm in the Mühlauhalle in Tuttlingen.
While Nendingen is relying again on its strong triangle Daniel Cataraga / Piotr Ianulov and Nikolai Ceban, Weingartener can finally make use of a painfully missed athlete. The Cuban Alejandro Valdes, who electrified the wrestling fans in Germany last season like no other, will celebrate his premiere in the DRL.
The Germans also had a detailed welcome talk with their star.
https://www.youtube.com/watch?v=3i1VhBi1V7c[/embedyt]
The bouts of the German Wrestling League this weekend will be streamed live at http://www.sportdeutschland.tv.
Individual results of the two bouts can be found directly after their end at http://db.ringerliga.de.