Schifferstadt seeks revenge in Nendingen, Weingarten seeks to gain the first home win against Eisleben
Schifferstadt seeks revenge in Nendingen, Weingarten seeks to gain the first home win against Eisleben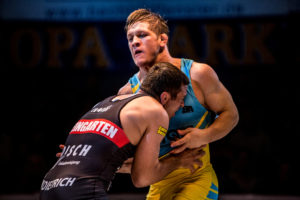 When DRL leader VfK Schifferstadt arrives on Saturday at ASV Nendingen (Mühlauhalle Tuttllingen, 7.30pm), they will be already expected by the people of the Pfalz who are ready to get revenge. After all, in mid-October, the first fight in Nendingen with a 9:12 loss represented the first defeat for the Schifferstädter. Whether the home team around the newly crowned Under-23 World Champion Daniel Cataraga will allow them to succeed, will be the burning question of the weekend.
After Nenad Zugaj scored four points for Schwaben, because his opponent Ilyas Özdemir fell ill at short notice, he will be missing for Nendingen in this important match. The injury received in the last bout against Adam Juretzko makes it difficult for him to compete. We are waiting in suspense, who will announced by the Nendingen team as his replacement on the mat. It will also be exciting to see how the VfK will perform in the second round after the style change in the 130-kilo class without his man of action Iakobi Kajala.
The spectators can look forward to a close match full of emotions.
As favorite Germania Weingarten goes into the home fight against KAV Eisleben (Mineralix-Arena Weingarten, 8 (!) pm). Despite the standings table, Lutherstadt should by no means be underestimated, which has been shown by them in the previous close match.
Emotional and atmospheric highlight will certainly be the first bout of public favorite Alejandro Valdes in front of his audience. Valdes, who has already shown last week with his win by fall over Andrei Perpelita that he has lost nothing of his last year's shape, will certainly make the Mineralix Arena shake.
The bouts of the German Wrestling League this weekend will be streamed live at http://www.sportdeutschland.tv.
Individual results of the two bouts can be found directly after their end at http://db.ringerliga.de.