Who will be the German Champion? – Ispringen vs Schifferstadt in the final of the German Wrestling League
Who will be the German Champion? – Ispringen vs Schifferstadt in the final of the German Wrestling League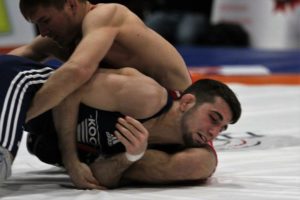 The fight for which Wrestling-Germany has been waiting for for weeks, if finally here. The two strongest German Wrestling Teams, VfK Schifferstadt and KSV Ispringen will meet in the final of the German Wrestling League. The question who will be German Champion will be answered on Saturday, 3 February from 19h30 in the Bertha-Benz-Halle in Pforzheim and on Friday, 9 February from 20h30 in the Wilfried-Dietrich-Halle in Schifferstadt.
With the big well known club from the Pfalz on the one and the rising club in team wrestling over the last few years on the other side, the two dominating teams of the GWL Premier Season are squaring up and that fans will see world class clashed on both nights is a given.
The exact line up is not yet finalised as both clubs still have eligible olympic medalists in their teams who have not yet hit the mat but will surely play a role in the final.
The final will also be a clash between the coaching legends on the edge of the mat, Markus Scherer for Schifferstadt and Alexander Leipold from Ispringen and surprises are to be expected.
Spectators can look forward to an electric atmosphere in the halls and world class sport which in this density has not been seen in German team wrestling.
Ticket information, broadcasts and accreditation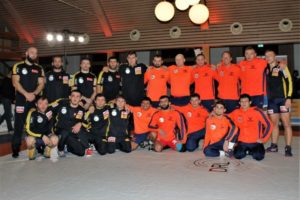 Tickets for both finals
Tickets for the first leg of the final cost between 10 and 25 Euros. Bookings on www.isp-ringen.de.
Tickets for the decisive second final in Schifferstadt cost between 10 and 35 Euros. Those can be booked by emailing tickets@vfk07.de
Broadcasts
None of the fights will be shown on live stream. The home teams decided to give their fans in the hall an exclusive experience. 30-minute summaries will be shown each following day by our media partner Sport1.
Dates for the Sport1 broadcasts are:
Sunday 4 Februar, 23h30 (First Final) and Saturday 10 February, 17h30 (Second Final).
Accreditation for media representatives
Please send your accreditation enquiry to:
diana.mehner@t-online.de (First Final)
m.oegat@vfk07.de (Second Final)
We kindly request that you submit the the usual documents and information for accreditation for both finals. Accreditation on the day cannot be guaranteed.